The DH and I moved into a new house about a year and a half ago. As part of the deal, our builder threw in the front yard, free of charge (so to speak), but the backyard has been a hill of rocks ever since. And the time has come to turn those rocks into a beautiful, thriving land of green. We waited until we had to, because a green backyard costs a chunk of green, too.
So, here we are, ready to get started, and I find my mind is reeling with possibilities. We have a completely blank canvas, and I can't stand to make a decision. (We all know how afraid I've been of blank canvases lately—just like the blinking cursor on a white page or a bare wall in the front room.) But, the time has come (the Walrus said), and it must be done. And all my plans have to wait anyway. After all, you have to start somewhere, with say, grass. But still, all I can think about is lilacs and blackberries . . . lilacs and blackberries.
It's great moving into a new area with new homes, but I've found that greenery is one thing I've missed, and all the fantastic colors that come with it. There are plenty of new manicured spaces around here but none of them have been around very long. So, there are no
mature
plants. They are all very childish and do childish things: they grow how and as fast as they want, paying no attention to what I ask. =) It will just take time, I know, but I'm a little impatient. I want some shade trees that actually provide
shade
. Like, now. This summer. "No can do," the tree says. Such a back-talker.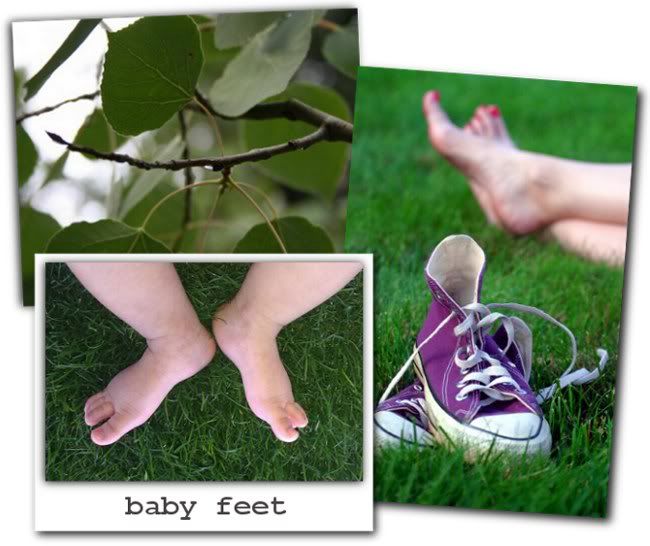 Well even if I can't have my meticulous plan, I will be happy to see grass. And roll around in it. And be able to walk from the back porch to the garage barefoot without the pinch of walking on rocks. But I have saved a few dozen of the big ones. I was going to make a walkway with them. I've scrapped that idea, but I want to do something with them. I think they will give the backyard a sense of self—to know how far it's come. And when I'm fighting with my lilac bush to grow this way or that or to bloom or to not die, it will probably be good for me to remember, too.