I love reading. I love books. I love reading books.
That being said, I need a place to keep all my book-ish things, and I've decided to deem this page the book page. Here I'm listing recommendations for your reading pleasure, challenges I'm working on, my book club news, and my complete bookshelf. Enjoy!
Looking for a good read? Try one of these:
My Antonia
by Willa Cather
Girl with a Pearl Earring
by Tracy Chevalier
The Kite Ru
nner
by Khaled Hosseini
Pride and Prejudice
by Jane Austen
Rebecca
by Daphne du Maurier
Hotel on the Corner of Bitter and Sweet
by Jamie Ford
Tuck Everlasting
by Natalie Babbitt
The Book Thief
by Markus Zusak
The Thirteenth Tale
by Diane Setterfield
A Room with a View
by E.M. Forster
The Goose Girl
by Shannon Hale
A Tree Grows in Brooklyn
by Betty Smith
The Boy Next Door
by Meg Cabot
Wuthering Heights
by Emily Bronte
For
Whom the Bell Tolls
by Ernest Hemingway
Still looking for more recommendations? Try
here
.
Reading is a challenge!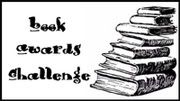 Read the post
here
.
Ends: December 1, 2009.
1.
Looking for Alaska
by John Green (Printz Award)
2.
The Blue Sword
by Robin McKinley (Newberry Medal) 7.26
3.
The Hours
by Michael Cunningham (Pulitzer Prize)
4.
Gilead
by Marilynne Robinson (Faulkner Award)
5.
The Blind Assassin
by Margaret Atwood (Booker Prize)
Join the challenge
here
.
Ends: January 15, 2010.
Challenge level: Bite on the neck.
1.
Sunshine
by Robin McKinley
2.
The Hollow Kingdom
by Clare Dunkle
3.
A Curse Dark as Gold
by Elizabeth Bunce
Join the challenge
here
.
Ends: May 16, 2010.
Challenge level: The Shallow End.
1.
Birthday Letters
by Ted Hughes
2. ?
Join our book club!
I run an online book club, and we are always looking for new members! We read all kinds of books and are open to all genres. Every month we discuss the book we read the previous month, read a book for the current month, and vote on a book for the next month. And we find time to talk about book recommendations and ourselves in between. If you'd like to join (the website is private) please email me at
cambookclub@gmail.com
.
To give you a taste, so far we've read the following:
The Alchemist
by Paulo Coelho
The Book Thief
by Markus Zusak
These Is My Words
by Nancy Turner
The Heart Is a Lonely Hunter
by Carson McCullers
The Time Traveler's Wife
by Audrey Niffenegger
Hotel on the Corner of Bitter and Sweet
by Jamie Ford
Three Cups of Tea
by Mortenson & Relin
Suite Française
by Irène Némirovsky
The Guernsey Literary and Potato Peel Pie Society
by Shaffer & Barrows
Stargirl
by Jerry Spinelli
Water for Elephants
by Sara Gruen
~