I

f you've never had the pleasure to check out the Weekly Geeks, this is a good time to start. With the opening of the sixth Harry Potter extravaganza, this week's challenge is to discuss some of the best movie adaptations of beloved books. This is definitely a topic I can get into. I love watching movies just a little bit less than I love reading books. Although a horrid Hollywood massacre of a screenplay can do a lot of damage (and has many, many times), I always try to keep the faith because the idea of transferring an amazing story into performance art is the stuff dreams are made of. Honest-to-goodness; when it's done right, of course. So, here I pay homage to Hollywood, for getting it right and making these stories come to life.
Rebecca by Daphne Du Maurier

I've already talked about this book in a previous WG post, but I'm adding it in again here because I am truly in love with it. And the movie, although black and white and although, granted, old, is so amazingly good. An older, rich gentleman, who has recently become a widower, meets and marries a beautiful, young girl. He and his new Mrs. de Winter move into his sprawling estate, Manderley, on the shore. And that's when things start to go eerily awry. They couldn't have picked better actors for these roles, and I actually refuse to watch any other adaptation. Honestly, I shouldn't have been surprised, as it's a Hitchcock—master of suspense. I first saw this movie in my senior year of high school, and to this day I cannot remember what excuse my teacher used to show it. After the first class period, I was completely hooked. I couldn't wait to get to English to see the next installment. Trust me, don't let the age scare you away, this movie is awesome. (And that goes for men, too! So strap your man down, he won't be sorry.)
Watch a clip here.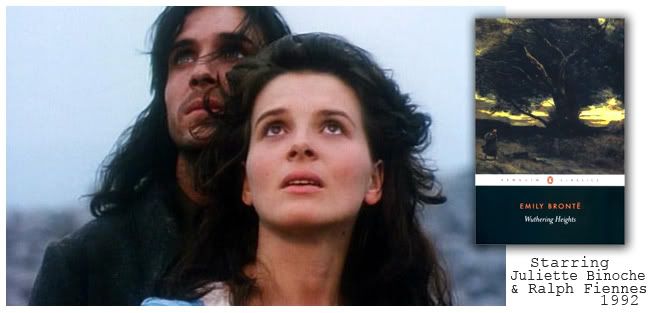 Wuthering Heights by Emily Brontë

I've also already blogged about my deep and abiding love for Miss Emily and her Gothic novel. There are a lot of adaptations of this baby out there, but this one by far takes the cake. If you want to see Healthcliff and Catherine in all their glory, don't settle for anything less than this '92 version. Ralph Feinnes is the perfect fiend, and they even stuck the author in as a narrator in the beginning and end, which could have been total kitsch, but it came out great.
Watch the trailer here.


Hamlet by William Shakespeare

Now, this one doesn't actually count because Hamlet is a play, and is therefore meant to be performed, not read. But, I decided to include it because I really love this rendition. When it comes to Shakespeare movies, you can never go wrong with Kenneth Branaugh, and out of his collection of masterpieces, this one is exceptionally good. A second favorite stars Mel Gibson, Glenn Close, and Helena Bonham Carter, which is must shorter.
Watch the trailer here.


To Kill a Mockingbird by Harper Lee

This is another older black and white, but again, so worth the time. I first read this book, like most of America, in the ninth grade and fell in love with it immediately. I'd say this is one of the best film adaptations of all time. Gregory Peck gives a stirring performance as composed public defender Atticus Finch. So relevant, so heart-breaking, and enduringly timeless.
Watch the trailer here.



Pride and Prejudice by Jane Austen

I know this one sort of goes without saying, but I couldn't leave it out simply because it felt like stating the obvious. There are about as many adaptations of P&P as there are people in India, so it's good to narrow down the field. With most films, there's quite a bit hacking up of the novel in order to make it fit the cut-to-the-action type of viewing experience that we all expect from the big screen. And I'll be honest, that's what I want most of the time from my book-to-screen adaptations because it's very difficult to produce something worth sitting through hours on end without making it boring or stiff or unrealistic. However, such is not the case with this six-hour version of Jane Austen's classic. Somehow they managed to make it work. Hats off to you BBC, I salute you. If you haven't had a chance to watch it, make time—it will be worth your while.
Watch a clip here.

If you really look into the birth of a screenplay, you'd be surprised how many actually come from bestselling books. At least, I was. A ton of chick flicks are born this way, Confessions of a Shopaholic, The Devil Wears Prada, and The Nanny Diaries to name just a few. Really, it makes perfect sense: the best movies come from the best stories, and the best stories come from the best books. So, here are a few of my favorites that I've later learned were adapted from books, which have now made it into my must read pile.


About a Boy by Nick Hornby

When a person asks me what my favorite movie is, this is always my reply. This. Movie. Is. Awesome. I can't actually put my finger on what it is I love so much about it, I just do. It's a story of a man who lives alone and likes it that way. His superficiality is like a badge he wears with pride. A series of events leads him to come in contact with a strange, slightly troubled, twelve-year-old boy, and that's where the magic begins.
Watch the trailer here.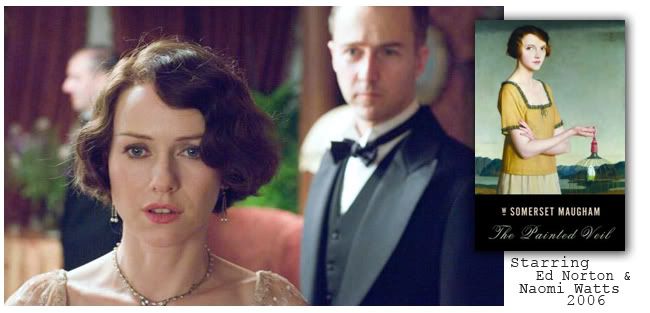 The Painted Veil by W. Somerset Maugham

I saw this movie on an extremely long airplane ride from L.A. to Brisbane, Australia. I had just finished a forgettable, slapstick comedy, and I was bored, bored, bored, when I came across The Painted Veil. I'd never heard of it, so my expectations were really low, and I was just blown away. It's about a young woman who finds herself in a marriage with a man she barely knows, who she feels is holding her back from the adventure she craves. When her husband takes her to the Far East to fight a cholera epidemic, she learns the true meaning of the word.
Watch the trailer here.



The Boy in the Striped Pajamas by John Boyne

DH and I recently rented this film. I've seen so many WWII movies, I wasn't particularly interested in it, but the preview was so enticing, I decided to give it a try. It's not often that you can take a topic so reworked and find a new perspective. This movie does that so simply, I was left speechless. It's about a German boy, Bruno, whose family moves near to a concentration camp because his father is an officer in the German army. There's no one to play with in this secluded area, so Bruno goes in search of a playmate, and finds one—just beyond a fence.
Watch the trailer here.



The Namesake by Jhumpa Lahiri

This is another movie DH and I just picked up on the fly. I'd never heard of it or seen a preview, but nothing else looked promising. Afterwards, I was so intrigued by the story that I couldn't stop thinking about it for weeks. It starts out with an Indian man who immigrates to America to study. He goes back to India to marry and brings his wife to his new home. They have two children; the oldest is a boy, Gogol, named after an author who meant something to his father. As Gogol grows up, he tries to balance his American life with his Indian heritage. A spectacular coming of age story.
Watch the trailer here.

So, there you have it! I hope I've inspired you to see one of these films or read one of these books. Happy watching/reading!