When my sister was in high school, she played tennis. It was her teenager "thing." Ya know, it's what she was into. She read
Tennis
magazine and had a very defined sock tan line, the kind where it looks like you are wearing socks even when you take your socks off. If she had been a family pet, we would have named her "Socks," like those Clintons. So, when I got into the ninth grade and found that many of my friends decided to take up tennis (and share that blissful last period together outside), I decided to join in. If my sister could do it, certainly I could learn right? And so, that's how I found myself on a hard court in the blistering sun getting beat by my tennis star older sister. Apparently, it was harder than I thought. Eventually, I took a few private lessons and learned how to hit the ball where it would sometimes go in, and that was enough to last me through my friends' tennis phase. (We later discovered study hall, in which we did everything else except study. It was much more suited to our needs and didn't require running sprints.)
Even though tennis didn't stick, I always liked watching my sister play, and I especially liked watching the Grand Slams, at least a few of them. Wimbledon was always my favorite. In them olden days, before the advent of Tivo, we had to watch the matches live. For breakfast, we'd have strawberries and cream, the official Wimbledon treat, and watch Steffi Graf pummel some poor unsuspecting opponent with her wicked forehand.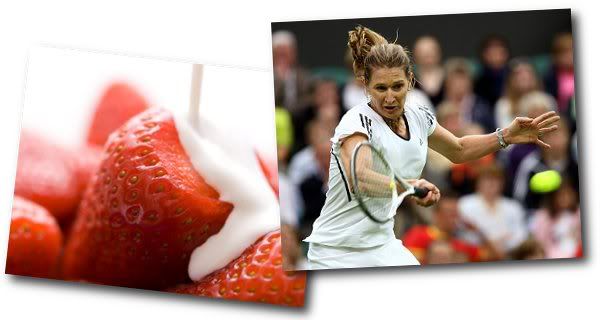 The US Open always proved exciting, and my sister even got to go once when my parents moved to New England for a stint. But, I have to say that the French was never my favorite. Maybe it was the time of year, maybe it was that glowing orange clay that always gave me a headache, or maybe it was just the French, but whatever the reason, that tournament never interested me as much as the others.
I haven't watched tennis for years. I'm not sure exactly why; it must just be that the sisterly influence isn't as strong. But since I find myself in front of the television quite often as these snowy/rainy days persist and persist, I noticed the French Open on ESPN2 the other day, and it was such a throw back and a thrill. I think I'm converted once again. I've been reeled in by the strategy of the game and that whoosh-pop, whoosh-pop rhythm.
Some observations:
(1) Once you learn the rules of a sport, you never really forget them. (Well except for maybe a couple, like tiebreaks.) This is
not
the case, however, with playing. Tennis is
not
like riding a bike.
(2) When you take a hiatus from a sport, it takes a hiatus from you. Meaning, I don't know many players on the tour anymore. However, that's part of the fun, too. It's been fun the last few days to get to know them, and I already have my favorites.
(3) What is up with women's tennis clothing these days? Used to be women would wear very pristine, athletic looking clothing. Not something you could show up to a club in. I'm sorry, but I'm actually
very
distracted from the game when a women is playing in a neon tutu.
(4) Why didn't I ever like this tournament? The surface slows up the game making the points longer; and all the sliding around and changing direction. It's very exciting. I should have gotten over that orange a long time ago.
So, if you are interested in giving tennis a try and you've never watched it, check out the final next weekend. (Trust me, it seems quiet like golf, but it's much more interesting. =)