O
n an evening in November, the people of Mexico and other Central and South American countries gather to celebrate
Dia de los Muertos
, the Day of the Dead. You may be thinking, sure--just like we have Halloween, a night when the dead rise from their graves to terrify and torment the living. Well, you would be wrong. Like Halloween, on the Day of the Dead people get together and have a good time, but it's a lot more than running around in a scary mask and gorging oneself on candy.
On this day, families get together, make a meal, clean and decorate their relatives graves, and celebrate the lives of those who've past on. They sing songs and dance and eat little treats in the shape of skulls. They build shrines to their family members and adorn them with marigolds, a flower thought to bring the soul to the surface. Although some images of this cultural holiday may seem morbid at first, it is a celebration of love and devotion and above all--life.
Instead of tripping from house to house begging candy, Mexicans sit down to share dinner with their departed. They honor their loved ones' memories with a meal and a party. I think it's a wonderful tradition.

So, I've decided to hold my own little dinner party--a heavenly one. Filled with those who've gone before me, who've journeyed to that last resting place in the sky. And while they are not my relatives, they are people who I've always wanted to meet, who by now could probably use a little break from the afterlife to take a seat at my table and enjoy a good meal. (Although I must preface this by saying that I've broken my own rule . . . there is one at this party who has yet to pass the portal, but I couldn't help inviting her. And anyway, every rule deserves at least one good break right?)


I quickly sent out my mental invitations and accepted rsvps (100 percent attendance, of course!), and before I knew it the day of the party came and went, like a dream. We had pork roast with apple chutney, side salads with plenty of blue cheese crumbles and vinaigrette, and death by chocolate cake (just for kicks) and blackberries for dessert. It was fantastic, and the best part was that I finally had an excuse to pull out my late 19th century style evening gown . . . all in my mind of course.

Would you like to know how it went? Of course you would. Here's a quick group shot, although Emily refused to turn around for it (deep in conversation as she was) and only Mary would smile.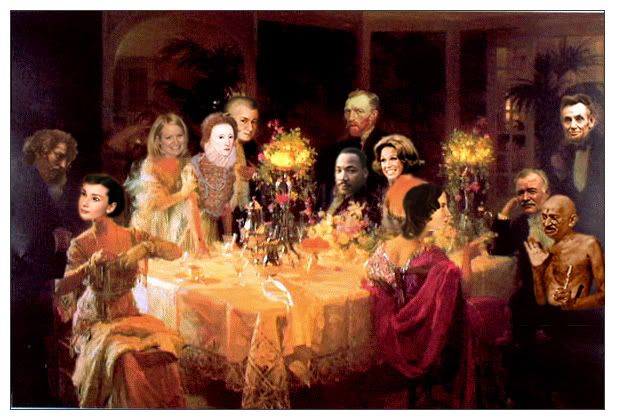 It was really interesting to see who would end up getting along well. Although I was mostly interested in talking with each person individually, it was also telling to hear what they had to say to each other.

Elizabeth was actually quite a conversationalist, though she was a bit stand-offish. I love how she's giving me the cold shoulder in this picture. Wolfgang was probably trying to shmooze her as he does everyone. Elizabeth doesn't really fall for that sort of thing, having been a queen and all. She's very well spoken and can see through just about anyone, I think.

The biggest surprise of the night was Emily and Gandhi hitting it off right away. They had endless things to talk about, which I could only imagine centered around differing opinions of English tradition and the taste of heat during an Indian summer. Ernest kept a respectable distance, but I could tell he was heavily observing our table scene, and locking away every word. And Martin was eyeing Gandhi all night. I could tell he was just itching to get over and take Emily's place, as Mary tried to keep him entertained. I can't imagine what she talked with him about, but I was happy to see her 60s flip do was in perfect order.

The brooding award went for a tie between Vincent and Abraham, though I did my best to draw them into the conversation. Vincent wouldn't hear of it (hehe), although I think Abraham was loosening up by the end of the evening. I overheard a wonderful interchange between him and Aristotle, once Audrey had let him go (she does love a man with a beard), something about the dynamics of consistency--if that makes any sense at all.

Overall, it was a lively evening, with only a few tiffs (that Vincent is a hothead) and no complaints. A wonderful, dreamy night with so many people I've admired. As part of the evening, I took some time to announce how each person, from A to Wolfgang, had impacted or influenced my life. It was rewarding to see each face turn and eyes light with surprise and satisfaction at my story.

What will you have at your Dia de los Muertos celebration? Who will you invite? I definitely plan on doing it again sometime with a new heavenly guest list . . . so many people, the possibilities are endless. Perhaps we'll have salmon next time.

In case you need a hint, from left to right:
1. Aristotle, 2. Audrey Hepburn, 3. me, 4. Elizabeth I, 5. Wolfgang A. Mozart, 6. Vincent Van Gogh, 7. Martin Luther King Jr., 8. Mary Tyler Moore, 9. Emily Bronte, 10. Ernest Hemingway, 11. Mahatma Gandhi, 12. Abraham Lincoln.