I
had big plans for how I would re-enter the blogging world after my short-
ish
blog break. But alas, this is all I could come up with and so I hope it will be interesting enough for you, faithful readers. Since I'm sure by now, no one will ever come and back and read my blatherings. But oh well, I like writing, so I'll just keep doing it. =)
I didn't quite make it back to my keyboard before the holiday, but I guess just after counts. We've moved and settled in, and now all is well--for the most part. I was cut off from the world for some time while we were working out the kinks of the mysterious internet set-up. (Oooo... you plug it in there and it works?? No kidding.) But, I hope you all had a wonderful holiday and that you have a happy new year, too.
To kick off my return to blogging, I thought I'd do a little day-in-the-life post. So, this is not exactly what my daily life is like (I wish), but it was an excuse to spend the day reading, and for some weird reason it felt like an adventure, so here goes . . .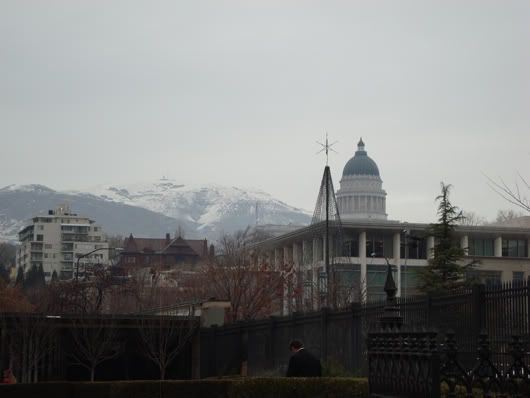 It all started with a perfectly gray morning--the best way to begin a bookish day. I started it off right by not missing out on breakfast. I devoured a cinnamon roll roughly the size of my head at this charming cafe. Then it was time to scope out a good spot to settle down to a few good page-turning hours. So, I found a stately cushioned chair (er, "throne," rather--I was crowned Lord of the Reading for one day), right next to this most-perfect of Christmas trees.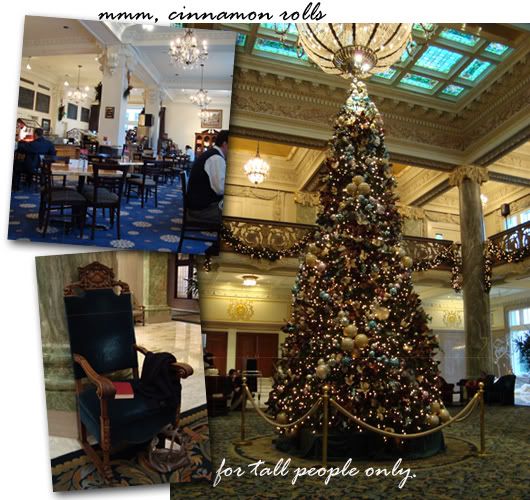 Although this chair looked like a good pick from afar, after about 20 minutes, I had to scope out a new spot. It was not made for short people--my feet kept falling asleep because they barely reached the floor. But, I was in luck because there were chairs for the short-legged nearby. There I spent many blissful hours.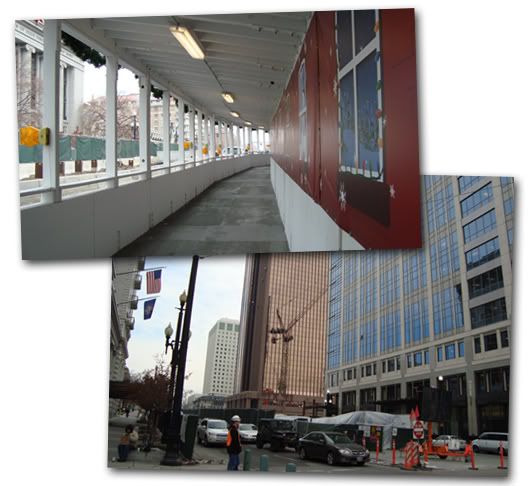 Then, it was time to hit the city for some lunch. So, out I went among the buildings . . . and along several outdoor "hallways" made to detour the public from the construction going on everywhere right now. I love how they've put up these plastic banners with little fake picture windows in them. Each window lets you spy on a cute little holiday scene: a pengiun ice skating, for example, or a little family snuggled around a fireplace. When I was a kid, I used to love cheesey stuff like that. I'd always imagine how cool it would be if the window was real and there was some way I could open it up and step through the portal to a magical cartoon world. Anyway . . . back to lunch.

I really wanted to go to Schlotzsky's, which has been a family favorite (my mother lovingly refers to the sandwich as a "slot-ski"), but because of the construction, I was unsuccessful and had to content myself with a cheeseburger and some chicken nuggets. Not as satisfying, but hey, I didn't go hungry.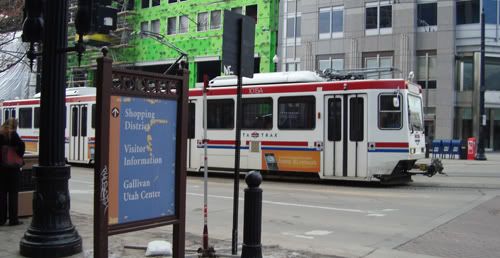 Then, it was time to hop the Trax! And head out for the main event: the city library! I got really excited when I saw this picture, and I was not at all disappointed! I'm a lucky girl to be living so close to this beauty!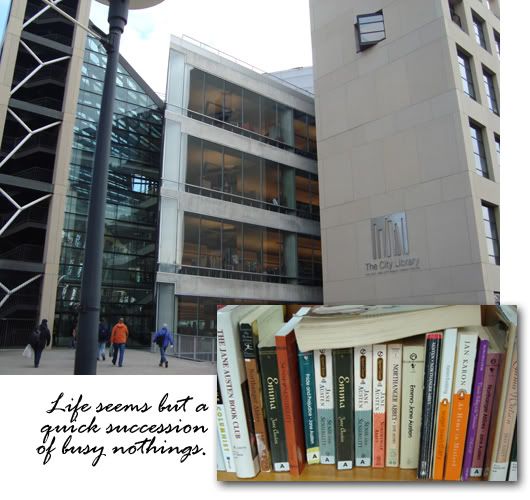 They have little shops on the bottom floor of the library, and in front of one, they sell used books that have been retired from the library shelves for dirt cheap. Proceeds go to buying more books of course. And, I found an entire Jane Austen shelf. I had visions of collecting as many versions of each novel as possible, and then quickly dismissed it. But it was still a joy to see them all lined up, waiting to be discovered.

The inside was a dream. They have an entire section of graphic novels! I could hardly get my hands on any at our old public library. They also had several displays up to help you find books you would be interested in: there's a space dedicated to "browsing" only, with different books prominently featured; there's a section of books lined up which have been picked by the librarians who work there, with printed lists you can take with you; they also had little displays for certain authors, and one was, you guessed it, Jane Austen. So fun! I had a great time looking around, and adding more titles to my tbr list, of course.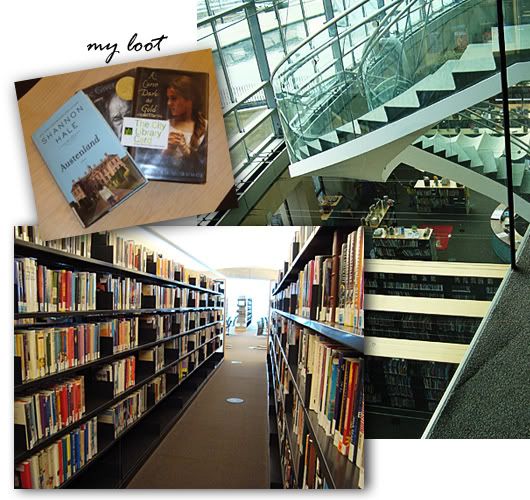 So, then I picked out some books I've been meaning to read and found a comfortable chair, yet again, to dig in. I read one chapter of each book, round robin, and then over again. And then, I promptly fell asleep, as the afternoon was wearing on and that cheeseburger was sitting heavy in my stomach. =) But after a little cat nap, I was again ready for action. I read until it was time to meet my better half for dinner. It was sad to leave that beauty of a building, but I took a little of it home with me, on loan of course!



Then, I concluded this day of reading with a some one-on-one time with my husband. A little dinner and a Christmas concert, and we were on our way home. Sigh. Someday I'll do it again. =)

P.S. So happy to be back!!